Two Illinois Hospitals and Ni...
News
Two Illinois Hospitals and Nine Affiliated Imaging Centers Reduce Radiation Dose with Carestream DR Systems
New Systems Help Enhance Productivity for Radiologists and Technologists
Tue Oct 17 2017By Carestream Health, Mia DeBiase
New Systems Help Enhance Productivity for Radiologists and Technologists
ROCHESTER, N.Y., Oct. 10 — Edward-Elmhurst Health (Naperville, Ill.) has installed four CARESTREAM DRX-Evolution Plus and DRX-Evolution Systems, two CARESTREAM DRX-Ascend Systems, three CARESTREAM DRX-Revolution Movile X-ray Systems and retrofitted nine rooms with CARESTREAM DRX detectors. Two additional DRX mobile systems will be installed by year end to complete its conversion to DR technology.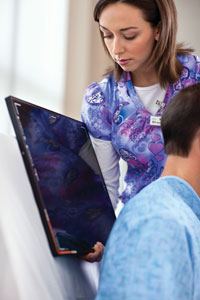 This conversion began several years ago as the health group started replacing existing CR systems with DR systems.
"Our staff evaluated imaging systems from several vendors. Our radiologists compared the image quality delivered by different detectors and selected Carestream's cesium iodide detectors. We use these detectors for our room and portable imaging systems," said Ryan Garland, Edward Hospital's Radiology/Imaging Manager.
The health system captures more than 120,000 X-ray exams a year. It has 30 standard-size 14 x 17 inch Carestream detectors and two 10 x 12 inch CARESTREAM DRX 2530C detectors that are used to image infants in NICU areas.
"Installing new systems with cesium-based detectors created a 60 percent reduction in dose as compared with CR. And converting to DR has greatly enhanced productivity and workflow by providing immediate access to images by radiologists and physicians," Mr. Garland reports.
Standardizing on Carestream systems also delivers consistent image quality and technologists benefit from the user-friendly design offered by these systems, he adds.
Mr. Garland uses Carestream software to monitor dose data and repeat rates. "The exposure index system provides appropriate exposure ranges and the administrative software allows me to detect when technologists are overexposing or underexposing patients. It's an excellent way to ensure that our facilities maintain the highest possible image quality and the lowest possible dose," he explains.
Carestream DRX Plus detectors are thinner and lighter than other detectors to provide easier handling and an IPX 57 water-resistance rating enhances longevity. "We use DRX Plus detectors in the ER and OR areas because of the added protection against damage from bodily fluids. This important advantage can lengthen the life of our detectors," Mr. Garland said.
Being able to use any DRX detector in any DRX imaging system ensures continuous uptime and greater imaging flexibility.
###
About Edward-Elmhurst Health
Edward-Elmhurst Health is one of the largest integrated health systems in Illinois. The system was created by the merger of Edward Hospital and Elmhurst Memorial Healthcare in 2013.
Our goal is to make every moment patients spend at Edward Hospital as comfortable and stress-free as possible. This mindset dates back to 1991, when Edward became the first hospital in Illinois to offer all private rooms. In the years since, we've introduced more innovations in comfort, like space for family to spend the night, peaceful healing gardens and a pediatric ER designed with a nautical theme. For more information visit www.eehealth.org.