MRI Systems and the Helium Sh...
Ask The Expert
MRI Systems and the Helium Shortage
MedWrench recently spoke with Technical Prospects Kevin Brinkman, Senior Director of Engineering, and Joseph Sam, Imaging Support Engineer & Trainer, about the helium shortage and its impact on MRI Systems.
Fri Nov 01 2019By Technical Prospects
Helium may be one of the most-abundant elements in the universe, but here on Earth it's also one of the lightest. So, it tends to float away into the atmosphere and escape into outer space given the chance.
Industries that make use of helium are struggling to meet demand due to a dwindling supply. That includes a very important purpose in medical imaging. Liquid helium is used to cool superconducting magnets in magnetic resonance imaging (MRI) machines.
Helium shortages aren't exactly new. In fact, balloons in the 1958 Macy's Thanksgiving Day Parade were filled with regular air that year due to poor helium availability. Unfortunately, that's not a feasible solution for MRIs.
According to published reports, approximately 75% of the world's helium is produced in just three locations – Qatar, Wyoming and Texas. That's one reason why, according to an article in The New York Times, if you rely on helium, eventually your supplier will "let you down" and make you wait.
One of the biggest worries is how the current shortage could hamper healthcare providers' ability to make important diagnoses. In-house imaging engineers and field service engineers (FSEs) play a crucial, behind-the-scenes role in helping hospitals and clinics avoid that possibility.
Technical Prospects Senior Director of Engineering Kevin Brinkman and Imaging Support Engineer and Trainer Joe Sam took some time to share his expert insights on the helium shortage and how it can impact the men and women tasked with servicing and maintaining MRIs.
How can helium shortages impact medical imaging engineers?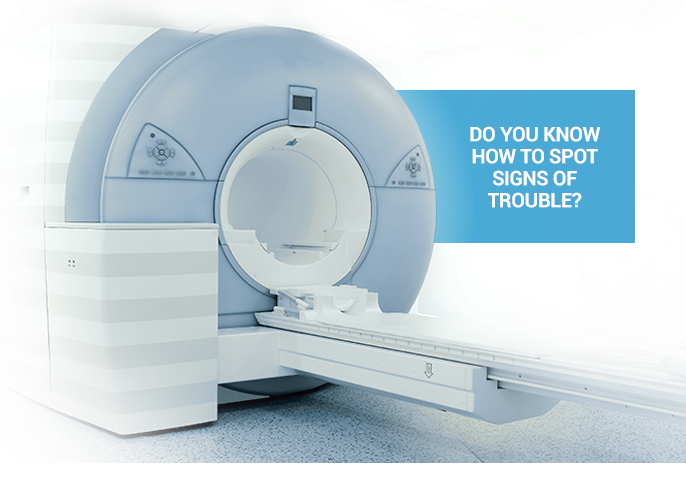 MRI technology is still relatively new and considered groundbreaking. The first human was scanned for medical purposes in 1977. Today, the clarity of high-resolution images an MRI scan produces is vital for diagnosing health issues, especially for evaluating soft tissues like the brain and muscles. As an added benefit, MRIs expose patients to less radiation than X-ray and CT scanners, making it a safer alternative for some people.
In many models of Siemens MRI systems, helium is the coolant used to maintain the correct temperature (less than 10 degrees Kelvin) so magnetic coils have superconductivity and can produce electricity.
In its liquid state, helium is extremely cold, which is what makes it so effective at cooling the magnets in MRI scanners. However, the slightest bit of heat changes helium into a gaseous state, which is when it makes its escape. It is also extremely difficult and expensive to store. That makes stockpiling helium extra challenging. So, helium suppliers are unlikely to save up in case a shortage occurs.
While imaging engineers aren't responsible for refilling helium supplies in MRI systems, they are the watchmen, keeping an eye on levels, And, engineers typically schedule a helium fill with the provider when levels drop to a certain point.
Field engineers are always advised to check the helium level when on site for any service or during the preventive maintenance (PM) interval.
To help engineers remember to schedule a helium fill for Siemens MRI machines, we've created a helpful chart listing prevalent Siemens systems. That includes 10K systems such as the Siemens Symphony and Harmony as well as 4K systems such as the Avanto and Espree.
Imaging engineers can look for helium level information in the system settings to compare with the OEM's recommendations. During a PM check, going into the Service Software Homepage and selecting the 'Magnet and Cooling' tab will provide the helium level, shield temps and magnet pressure, which help in determining if cooling efficiency is optimum or if it is compromised.
Also, engineers with access to remote services should check the magnet health frequently to monitor helium levels.
Keep the document below handy as a quick reference when performing PM or while evaluating helium levels in Siemens MRI models on any site visit.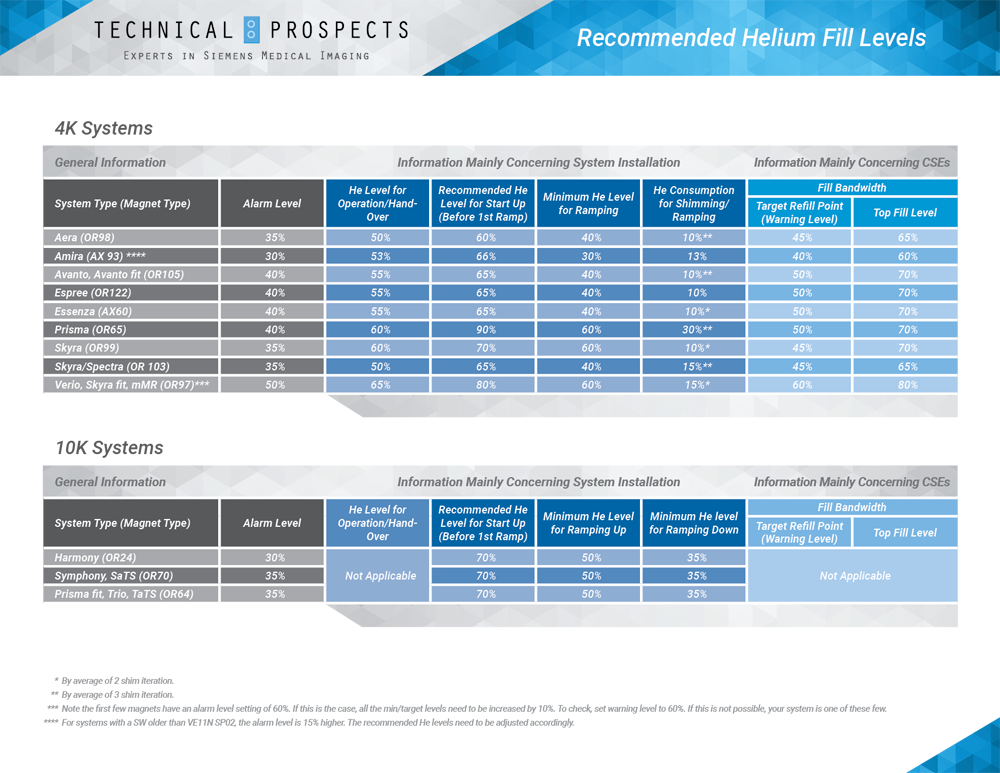 Why is maintaining proper helium levels important?
While it is possible to run an MRI when helium drops below recommended levels, image quality issues may start to emerge. For example, the Siemens Symphony's minimum helium level for ramping up is 50%. But engineers may want to consider scheduling a fill when the level falls to 60%.
Low helium levels will cause the magnet vessel to warm, increasing the pressure and increasing helium boil-off. The system will continue to scan at the 60% level; however, image quality could be affected. The shim values will be off causing inhomogeneity issues.
In addition to impacting image quality, if an MRI cannot be used due to low helium levels, it means the hospital or clinic may be unable to scan patients. That could mean lost revenue as well as reputation damage, and most importantly, it makes it harder for patients to receive the medical imaging services they need in a timely manner.
What does Technical Prospect recommend?
Technical Prospects highly recommends that imaging engineers schedule helium fills well in advance. It's the best way to avoid system downtime as a result of low helium.
Because of the ongoing helium shortage, it's hard to tell how quickly a provider will be able to respond to requests for fills. Being proactive about scheduling helium fills in Siemens MRI scanners will help you stay on top of things. It also shows your managers and clients that you can be trusted and have the best interests of the organization and patients in mind.
WATCH A FREE WEBINAR ON MRI MAGNET HEALTH

Technical Prospects strives to be a partner to imaging engineers who work with Siemens medical imaging systems. Its Siemens replacement parts have an astonishingly low DOA rate. The company has expert imaging engineers ready to provide support over the phone at any time, and it's absolutely free – even if you haven't purchased a part from them yet. Plus, their hands-on medical imaging training gives engineers a unique educational experience that sticks with them long after the class is over.
Learn more about Technical Prospects here.