Why Do All My Sonosite Probes...
Ask The Expert
Why Do All My Sonosite Probes Receive an Error When I Connect Them to My Sonosite Edge System?
MedWrench recently learned expert tips on how to care for Sonosite Edge systems by Conquest Imaging Director of Portable Repair & Imaging Brandon Giger.
Mon Jun 01 2020By Conquest Imaging
Conquest Imaging shares what makes Sonosite's Edge Systems unique in the portable ultrasound system market, and how to support, repair and maintain this system. Have a question for the expert or want to find out more after reading these tips? Fill out the form at the bottom of the page to ask Brandon Giger a question directly.
When I connect a probe to my Edge system, I receive the following error: "An internal analysis indicates the TRANSDUCER IS DAMAGED." What does this mean?
Your Sonosite Edge system may be enabled with a software feature that performs an analysis of the transducer each time it is connected to determine if it has been damaged. This analysis evaluates the integrity of the transducer, cable and connector. This feature was designed to prevent transducers that have been damaged from potentially causing damage to a system. Once a transducer fails this analysis it will be permanently identified as damaged by the software, and will be disabled if it is again connected to any Edge system that also has this feature enabled.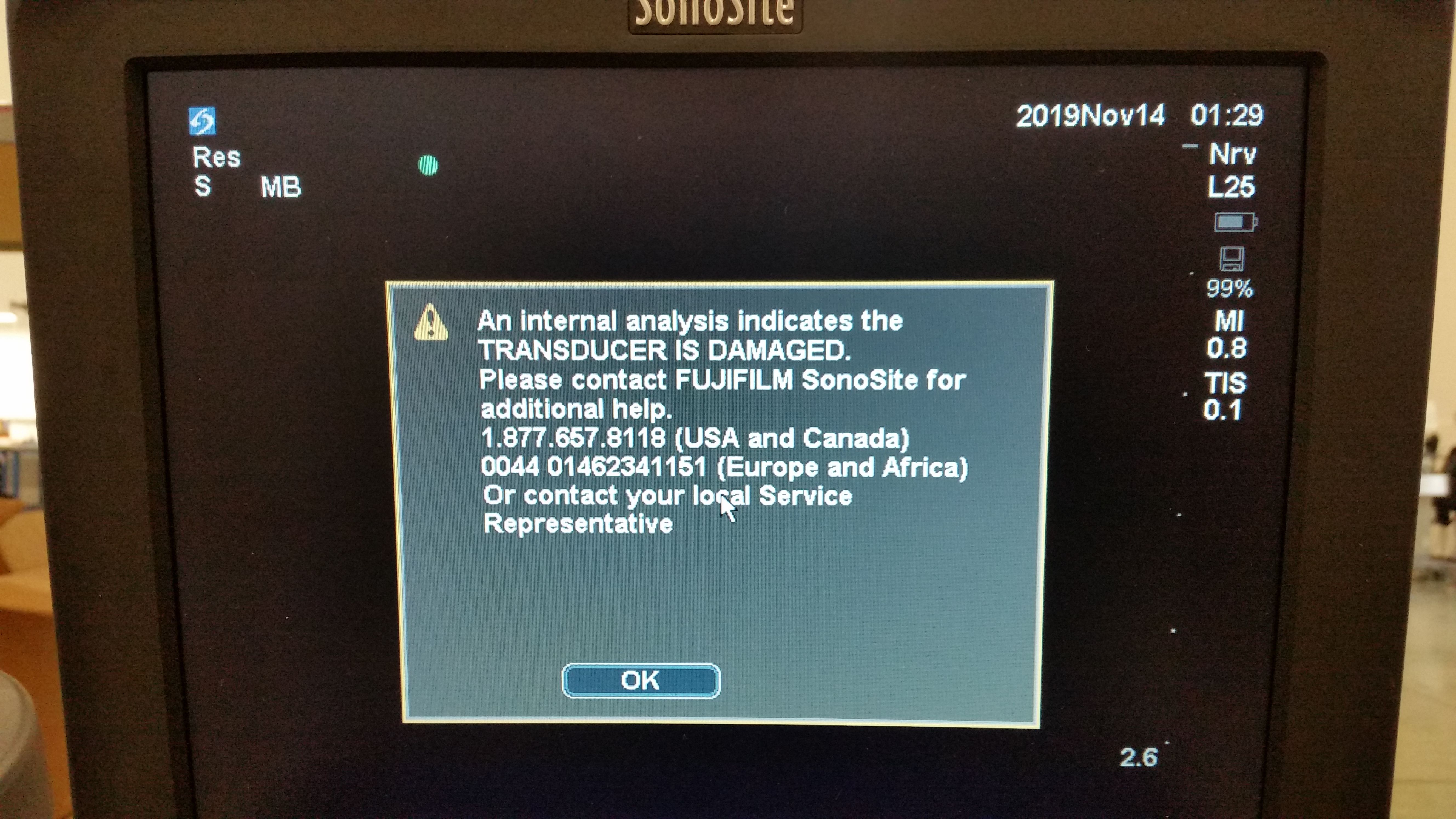 Transducers that work with the Edge system can often also be used on other Sonosite systems such as the M-Turbo, M-OBGYN, M-MSK and S-Series systems. Because these older systems do not have the ability to perform this transducer analysis or identify the transducers as having been marked as damaged, they will still enable the transducers that have been marked as damaged by an Edge system and attempt to use them.
Because of this, it is very important to immediately quarantine any transducer that has been identified as damaged by an Edge system with this transducer analysis feature. Connecting a probe that has been identified as damaged to an M-Turbo or S-Series system could cause damage to that system.
Once your transducer has been identified as damaged, you will need to send it in to a transducer repair vendor or exchange it with one of your suppliers.
What are some important things to know about Sonosite Edge systems, transducers, and their new transducer analysis feature?
Something important to be aware of regarding this transducer analysis feature is that, just as transducers can become damaged, so can the system performing the analysis. In the event that the system suffers certain types of damage, some unexpected things can occur with your transducers.
In order for the Edge system's transducer analysis feature to work, the software must rely on the system's internal hardware to perform the analysis. If for some reason the systems internal hardware has been damaged, it is then possible for the system to mistakenly identify ALL transducers that are connected to it as damaged.
If you are using multiple different transducers with the same Edge system and the system suddenly starts telling you that all of your transducers are damaged, there is a good chance that it is actually the system that may have been damaged and not the transducers.
If you find yourself in this situation, you will need to send your system and all of your transducers to a qualified repair facility. The systems internal hardware will need to be repaired, and each of the transducers will need to be independently evaluated as well.
In the event that a system hardware failure has caused all of your transducers to be erroneously identified and labeled as damaged, the transducers will have to have this label removed. It is important to also have the transducers repaired because if not, even after the system has been repaired the transducers will still be identified as damaged by the system.
How can one determine if the issue is with the probe, or the system?
A simple way to determine if a specific probe is causing the "transducer is damaged" message, or any other of a wide variety of issues that you may encounter with your system, is to try another transducer. If another transducer works fine with the system, then the system is definitely not the cause and you simply have a damaged transducer. If this is the case, the transducer should be clearly labeled as damaged and should be quarantined.
However, if every transducer that is connected to the system produces the same issue be it a "transducer is damaged" message or some other kind of issue, you likely have a faulty system. Both the system and all of the probes that have been connected to it will need to be sent to a qualified repair facility for evaluation and repair.

Can this problem come back after a repair?
Yes. Damage to a transducer can happen at any time, either due to wearing out over time or to a specific occurrence such as pinching, cutting, or compressing the cable. It is possible that a transducer that has previously been erroneously labeled as damaged by a faulty Edge system and was cleared of being labeled as damaged, can later actually suffer damage and be identified as damaged again. Check your probes regularly to try to minimize this risk before a probe damages your system.
What preventative maintenance items should be performed on a Sonosite Edge system?
Sonosite does not officially recommend any kind of periodic preventative maintenance on the Edge system. However, there are still things that can be done to avoid damage or degraded performance and increase the useable life of your Sonosite Edge system and its probes.
The Edge system has an internal cooling fan that circulates air throughout the chassis. As with any system that utilizes cooling fans, these fans accumulate dust over time. This dust/dirt accumulation can reduce the cooling efficiency. It can also cause unnecessary excessive wear on the fan bearings, which could cause them to fail prematurely. Simply blowing the fan out with compressed air can help extend the life of both the system and the fan.


The transducer connector "nest" on the system utilizes a "pin-less" contact method comprised of spring-loaded contact points that protrude from the nest housing. These contact points can be bent or broken when mating/unmating probes from the system. By periodically checking the integrity of these contact points as part of a routine maintenance schedule, you can prevent degrading image quality due to missing elements caused by bent or broken contacts.


All ultrasound transducers should also be checked regularly. Look for cuts and nicks in the cabling, torn strain reliefs, damaged lenses etc. These checks can show you that even though it may still be working on the system, that it may be due for repair or on the verge of failing and possible causing system damage. Obviously, if you have a Sonosite Edge system with transducer analysis capability, it would be wise to connect any and all supported transducers to this system as part of your periodic maintenance schedule.
What other information do you think would be useful for a technician to know about Sonosite systems?
Not all Sonosite Edge systems have the transducer analysis feature enabled. Furthermore, whether or not this feature is enabled on any given Edge system is not necessarily clearly identified. To determine whether or not your system has this feature enabled, you may need to inquire with Sonosite technical support about what features and options are enabled with your particular software version and licensed options. Otherwise, you may not be aware of the presence of this feature until it suddenly identifies one (or possibly all) of your transducers as damaged.
Although we have focused on the Edge system, the newer Edge II system also has this feature, as well as some other newer models from Sonosite. However, all previous models such as the M-Turbo and S-Series, and older systems will not have this feature.
Conquest Imaging's repair labs have full SonoSite portable and probe repair capabilities. For a free evaluation, contact 866-900-9404.