President's "E" Award For U.S...
News
President's "E" Award For U.S. Export Growth Received By Ampronix
Ampronix known as the Leader in Medical Imaging Technology was Honored to Accept the Presidents E Award in Washington D.C held at the Department of Commerce Building.
Wed Nov 17 2021By Ampronix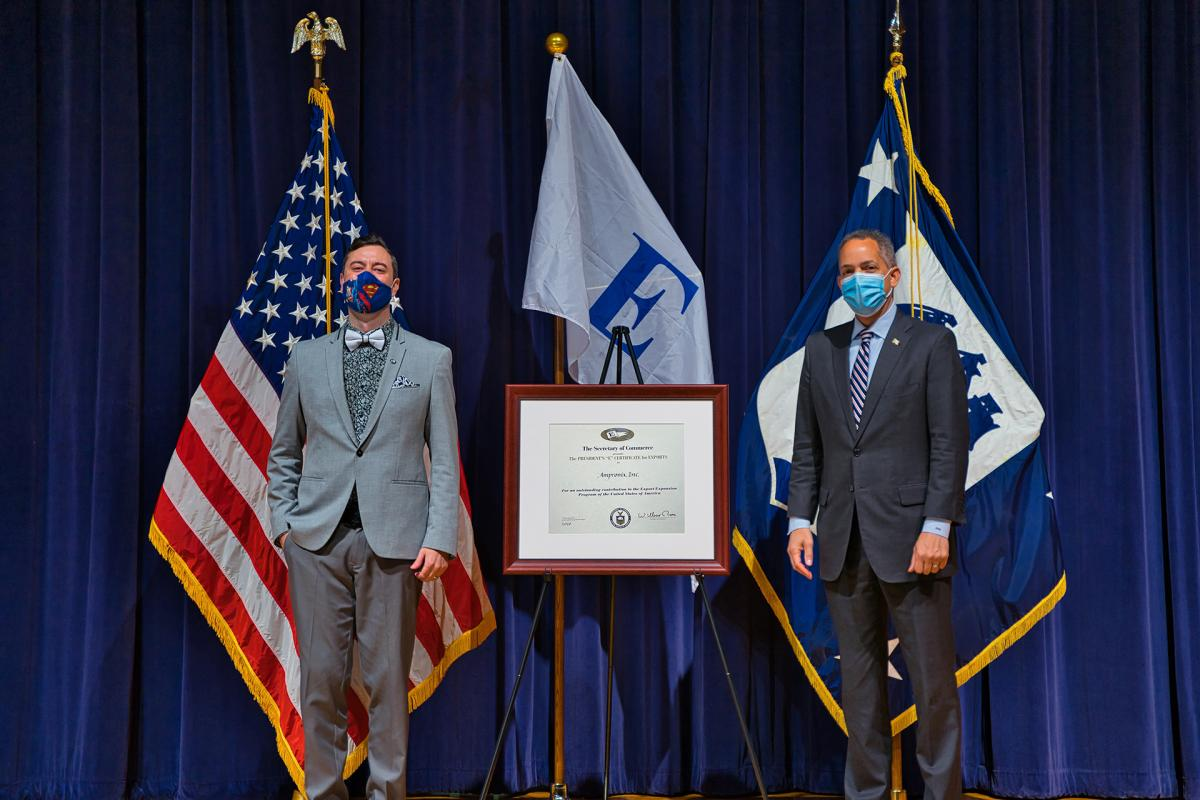 Orange County, CA - November 5th, 2021 - Ampronix known as the Leader in Medical Imaging Technology was Honored to Accept the President's "E" Award in Washington D.C held at the Department of Commerce Building.
For the in-person ceremony, U.S. Deputy Secretary of Commerce Don Graves Presented Michael Thomas with Ampronix with the President's "E" Award. "As we Sell & Service Life-Saving Medical Equipment Exporting is a vital part of our sales channel. Our customers in 151+ foreign markets look to us to provide the highest quality medical products that are made in the United States, and we are honored to receive the President's "E" Award.," said Michael Thomas, Director of Business Development & Marketing at Ampronix Inc.
Previously, U.S. Secretary of Commerce Wilbur Ross notified Ampronix of its selection to receive the President's "E" Award for Exports. The President's "E" Award is the highest recognition any U.S. entity can receive for making a significant contribution to the expansion of U.S. exports.
"Ampronix, Inc. has demonstrated a sustained commitment to export expansion. The "E" Awards Committee was very impressed with Ampronix's exports to more than 135 countries. The company's investment in product certification to gain entry into more international markets was also particularly notable. Ampronix's achievements have undoubtedly contributed to national export expansion efforts that support the U.S. economy and create American jobs.," said Secretary Ross in his congratulatory letter to the company announcing its selection.
In total, Secretary Ross honored 39 U.S. companies and organizations from across the country with the President's "E" Award for their role in strengthening the U.S. economy by sharing American ingenuity outside of our borders.
As a leader in medical imaging technology since 1982, Ampronix develops, distributes, and services groundbreaking solutions in 151+ Countries that promote optimal patient outcomes. Our goal is to offer the assurance necessary to overcome the operational and financial obstacles of the evolving healthcare industry. The world-class Research and Development team at Ampronix specializes in developing innovative medical imaging solutions to overcome challenges created by gaps in current technology. Our expert engineers design products as a solution for OEM (Original Equipment Manufacturer) companies that often exceed their expectations. After 39+ years of building relationships with industry leaders, Ampronix has become an established master distributor for many reputable brands. Maintaining these prosperous partnerships is how Ampronix can offer high-caliber products with preferred pricing.
With over a century of combined experience, Ampronix's state-of-the-art service facility employs highly qualified technicians to diagnose and repair all types of imaging equipment and peripherals. Our experts expose and correct manufacturer weaknesses, which result in longer-lasting, more efficient equipment. Moreover, we equip international distributors with a variety of innovative products to support their growth. Since our humble beginnings, we have focused on putting clients' satisfaction first, as professionalism is our cornerstone. Ampronix is dedicated to helping others save lives and create a healthier tomorrow for future generations with reliability, safety, and quality at the core of our philosophy.
U.S. companies are nominated for the "E" Awards through the U.S. Commercial Service, part of the Department's International Trade Administration. With offices across the United States and in embassies and consulates around the world, The International Trade Administration lends its expertise at every stage of the exporting process by promoting and facilitating exports and investment into the United States; administering Anti-Dumping and Countervailing Duties orders; and removing, reducing, or preventing foreign trade barriers.
About the President's "E" Awards
In 1961, President Kennedy signed an executive order reviving the World War II "E" symbol of excellence to honor and provide recognition to America's exporters. Criteria for the award is based on four years of successive export growth in one or more international markets.