BMET PACK PRO Portable Test E...
News
BMET PACK PRO Portable Test Equipment Now Available with Mobilize Wireless Automation
The BMET PACK PRO combines an Automated Electrical Safety Analyzer, complete vital signs simulation, IV pump analyzer with pressure / temperature meter and all standard accessories into a customizable pack. A new wireless automation option, Pronk Mobilize, offers greater accuracy and simplicity in testing for biomedical engineers on the go.
Wed Aug 03 2022By Pronk Technologies
The

BMET PACK PRO

makes it easier than ever to travel with the latest test equipment between hospitals and clinics. The Pronk Simulators (SimCube® NIBP, OxSim Flex® SpO2, SimSlim® Multi-Parameter), Safe-T Sim® Automated Safety Analyzer, and FlowTrax® IV Pump Analyzer with pressure/temperature meter are bundled together in a compact pack with room for a 15.6-in. PC/tablet. With the

Mobilize option, the BMET PACK PRO gains an added dimension of wireless automation that brings dramatic reductions in testing time plus significant gains in accuracy. Mobilize captures all testing data, generating a complete electronic test report plus many additional features.
Key Features Include:
Automated Safety Analyzer
Complete Vital Signs Simulation System

12-Lead ECG: 0, 30-240 BPM in 5-digit increments
Respiration: 0-100 BrPM in 1-digit increments
Arrhythmia
SpO2 - Any Saturation, Pulse Rate and Perfusion level
NIBP/IBP Systolic: 6-230 mmHg in 5-digit increments
NIBP/IBP Diastolic: 30-190 mmHg in 5-digit increments
Digital Manometer
4 IBP Channels
YSI Temperature
Cardiac Output

Hand-held IV Pump Analyzer & Pressure / Temp Meter / Digital Timer & Stopwatch
BMET PACK with customized, padded compartments
Battery powered, 50x-drop rugged, made in USA, 4-yr standard warranty
All standard accessories included
OPTION: Mobilize Wireless Solution connects Pronk test equipment to your smart device!*

All work captured into detailed Electronic Records
Complete control and data capture from your smart device - no license fees!
Instantly sets testing values across all devices wirelessly
Runs user-defined or manufacturers' recommended checklists
* Currently available for Apple iOS. Android and Windows apps available with limited features. Complete Mobilize Android and Windows app is in development. Safe-T Sim Mobilize and other Mobilize products available for sale in North America.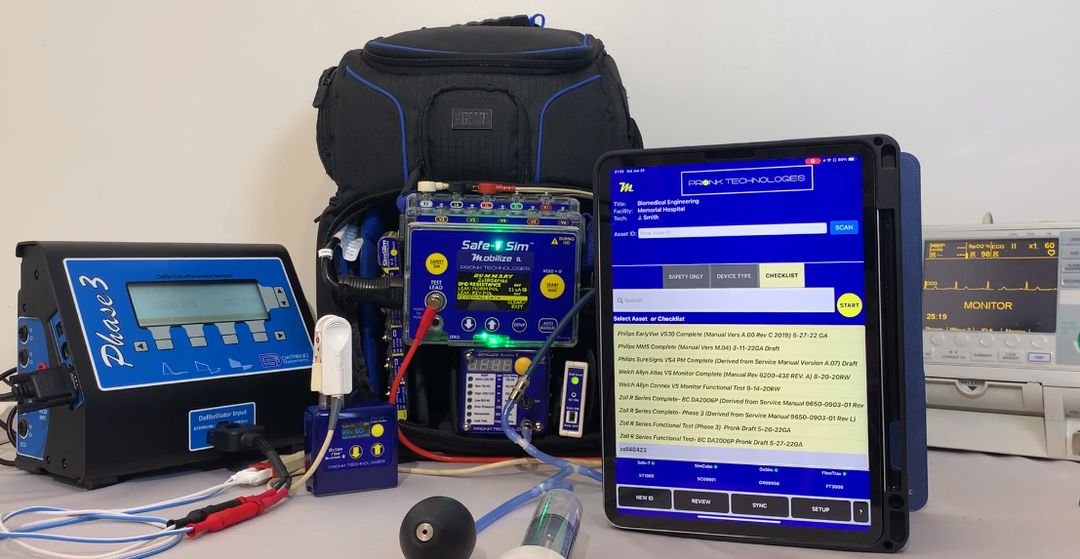 Visit www.pronktech.com for more information about the BMET PACK PRO and Pronk Mobilize.