In Memory | Michael Mike ORea...
News
In Memory | Michael Mike ORear Sr. Remembering an HTM Pioneer, GBIS Co-Founder
Clarence Michael Mike ORear Sr., a United States Army Veteran, passed away Thursday, December 15, 2022.
Tue Dec 20 2022By KennedyKrieg
Clarence Michael "Mike" O'Rear Sr., a United States Army Veteran, passed away Thursday, December 15, 2022.
Visitation will be held Tuesday, December 20, 2022, from 11 a.m. to 3 p.m. with a service promptly following in the chapel of In Their Honor of Jasper Funerals and Cremations (481 Noah Drive, Jasper, GA 30143). For information, call 706-253-5060.
Georgia Biomedical Instrumentation Society GBIS Executive Director Horace Hunter shared the news.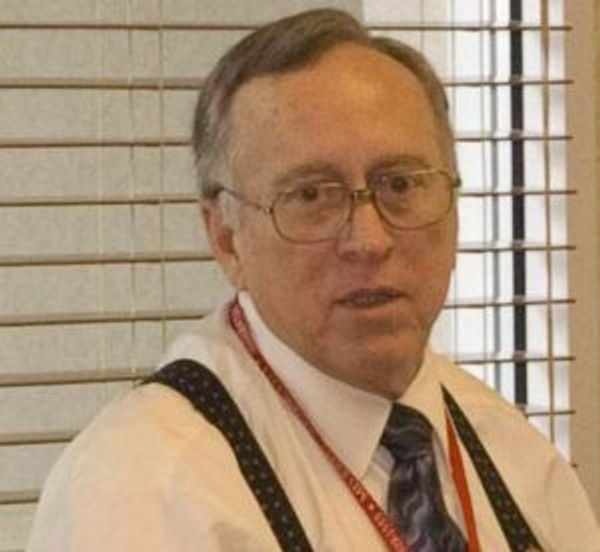 Michael "Mike" O'Rear Sr.
"Dr. Mike O'Rear passed Thursday, December 15, 2022. He performed the duties of GBIS Trustee for many years and served several other positions to include president, secretary and treasurer. He was one of the original GBIS pioneers to help develop GBIS into a state of Georgia biomed association," Hunter said.
"Dr. Mike" was known by many and had a giving spirit. He always volunteered to be in charge of the education and training classes for the GBIS annual conferences.
"Dr. Mike would light up a room when he entered. He enjoyed having his picture taken with everyone he would meet. He cherished family, friends and community above himself," Hunter said.
"He was a backbone to the GBIS family and an inspiration to his fans. To say he left a legacy would be an understatement and his positive impact will continue to be felt forever."
GBIS will be developing a memorial to honor Dr. Michael C. O'Rear.
MD Publishing Founder and President John Krieg remembers how important O'Rear was to the healthcare technology management (HTM) field.
"He was a true pillar in our industry," Krieg said.
MD Publishing Vice President Kristin Leavoy recalled how wonderful it was to see O'Rear at the recent MD Expo in Atlanta. It was perfect for O'Rear to be in attendance as MD Expo celebrated its 20th anniversary.
"Dr. Mike" is survived by his wife of 60 years Dianne, of Jasper, Georgia; son Mike O'Rear, of Jasper; daughter Sharon Farist, of Chattanooga, Tennessee; brother Dennis O'Rear, of Chattanooga; sister Debbie Holder and her husband Gary, of Whitwell, Tennessee; grandchildren Dylan Farist, of Jasper; Matthew Farist, of Chattanooga; and Danielle Farist, of Tuscaloosa, Alabama.
Mike and Dianne moved to Memphis in 1969, after he received his associate degree in electrical engineering, where he first started his career as a professor of electrical engineering at State Technical Institute at Memphis. While teaching, Mike also attended college part time and achieved his B.S. in electronic engineering technology in 1973 and his M.S. electronic engineering technology in 1975. He did his master thesis on biomedical engineering technology. O'Rear left the teaching field in 1974 to work for Sharp Manufacturing Company of America, as the manager of the microwave oven engineering plant. In 1984, he left Sharp and began working for Sanyo Manufacturing Corporation as the department manager of the Color Television Engineering Department. Then, in 1986 Mike moved his family to Marietta, Georgia, where he started at Chattahoochee Technical College as the lead instructor of electronics and computer engineering technology and biomedical engineering technology.
In January 2012, he became the adjunct professor of biomedical engineering technology. He decided to go back to college, and he attended Georgia State University, where he earned his Ph.D. in human resource development (training) in 1995, after that he became known as "Dr. Mike."
He was not just a professor to his students, "Dr. Mike" truly loved each and every one of his students. He was always there for them and willing to help them with anything they needed, even if it was for help with assignments from different professors or if they had already graduated and were working and just needed some assistance with anything. The family would like to let all of his previous students know that he truly loved and cared for them.
He was a member of the Institute of Electrical and Electronic Engineers, the Atlanta Area of Biomedical Association, Georgia Biomedical Instrumentation Association.
During his free time he enjoyed spending time with his family, especially his grandchildren. They would watch college football, go to the gun range, play games and tell jokes. Mike was in The U.S. Army where he served for 6 years. He joined the George State Defense Force, was an active member of the DAV.
"The family would like to let everyone know that they were proud to share him with you!" according to an obituary.
The HTM community will forever be thankful.