What does a Center of Excelle...
Ask The Expert
What does a Center of Excellence provide your ultrasound clinicians
Expert: Mike LaBree, chief technology officer, Innovatus Imaging
Tue Aug 01 2023By Innovatus Imaging
For this Ask the Expert article, we interviewed Mike LaBree, chief technology officer, at Innovatus Imaging. Mike's a well-respected authority in the ultrasound and acoustic design community. He's worked for industry leading organizations such as Tetrad, W.L. Gore, and Soma Access Systems before co-founding MD MedTech which is now part of Innovatus Imaging. Currently, Mike oversees Innovatus Imaging's Ultrasound Design and Manufacturing Center of Excellence which designs and manufactures specialty medical ultrasound products for OEM's, transducer arrays for Innovatus' Ultrasound Repair Center of Excellence, and research markets.
There's a lot of debate surrounding the Right to Repair movement. What is a key question that HTM professionals need to be asking?
I think that one of the questions that needs to be answered by anyone in the medical device service industry is, "Are the products that we are handing back to our health care providers clinically safe and effective?". How that occurs will differ in each healthcare facility, but ultimately, clinicians need to be able to rely upon HTM teams and ISOs to ensure their medical devices are safe and effective and performing as the OEM intended.
Every few months, it seems as though there are new companies promoting ultrasound probe repair. How does Innovatus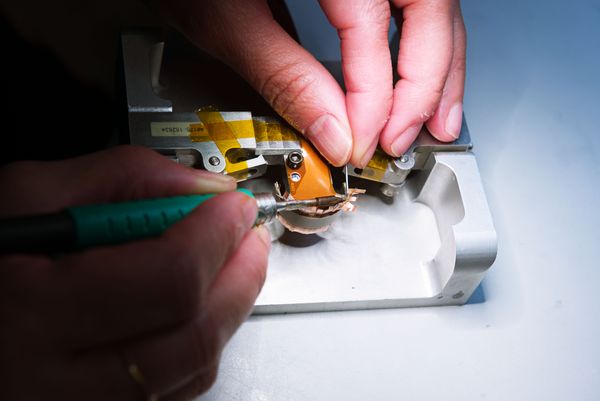 Assembling an acoustic arrayImaging differentiate itself from other sources in the market?
That's a very good question. Many in the HTM industry are unaware that Innovatus is an FDA-registered manufacturer of ultrasound probes and ultrasound related devices - that's a very strong differentiator. The team at Innovatus has expertise in the design and manufacturing of ultrasound probes for OEMs and possesses all the related technology and know-how to benchmark and qualify ultrasound probes and arrays for release to the market.
The other differentiator is that we specialize in ultrasound probe repair. We are not an organization that provides field service, replacement parts, tech support, and training on the scanner consoles…and also offers probe repair. We do one thing, and we do it very well. It's one of the reasons that we're trusted partners to several OEMs, multiple asset managers, IDNs and even other independent service organizations (ISOs).
What types of test devices are used in your facility?
We have a multitude of devices and processes to qualify the safety and performance of ultrasound devices. Devices, such as a hydrophone and a radiation force balance, are used to quantify a probe's acoustic output. These provide 3D mapping and measurement of the acoustic pressure field being emitted from a probe. A pulse-echo test, as seen in the header photo, enables us to visualize and measure the acoustic pulses from each individual element within an ultrasound array. This device twists and turns cables, wiring harnesses, and strain reliefs hundreds of thousands of times to benchmark and qualify performance and longevity. We also measure and document the face temperature of ultrasound probes to confirm that it remains in compliance with federal regulations and international standards.
This sounds very complicated. Are devices such as these needed by HTM teams in the field?
HTM teams test probes to determine whether the function of a probe has degraded in a way that would impact safety or efficacy. For this purpose, appropriate tools are a tissue mimicking phantom, properly functioning scanner, and an electrical safety tester. Organizations such as the American College of Radiology (ACR) and American Institute of Ultrasound in Medicine (AIUM) provide guidance to help end-users screen their probes for clinical use. Innovatus' technical teams can also host webinars and train HTM professionals on how to utilize a phantom and how to assess probe performance in the field.
An OEM manufacturer (and/or repair organization) tests probes for many additional reasons. These can include ensuring that a repair process hasn't impacted the product design, to monitor process variation across all products, and to detect and address subtle differences in products such that trends are detected before they impact functionality. This is analogous to an automobile transmission manufacturer who statistically controls all the dimensions of critical components in a transmission vs. the 'health check' that many mechanics perform when a car is brought in for service. The mechanic could invest in all the tools to measure every component in the transmission, but why would they – it doesn't provide them any value, they may not fully understand what they are testing, and the results would only indirectly answer the question they are asking, which is whether the transmission continues to work acceptably or not.
How does all of this technology relate to probe repair?
All of the technology, experience, and knowledge enables Innovatus to apply a manufacturing mindset to repair. Many of the materials, processes, and components used in repair are verified and validated using similar, if not equivalent, processes used in our manufacturing facility. Rather than just getting a device working again, Innovatus has the ability to restore safety, performance, efficacy, and OEM intended design. We like to say that we can restore your device's performance and reset its lifecycle.
What does this mean for the HTM community?
Innovatus is able to provide quality and accountability consistent with OEM production. By utilizing an ISO 13485:2016 certified quality management system and following the FDA's current Good Manufacturing Practices (cGMPs), Innovatus repaired products should provide HTM teams with confidence that, when that device is returned to the clinical environment it will be clinically safe and effective and perform as the OEM intended.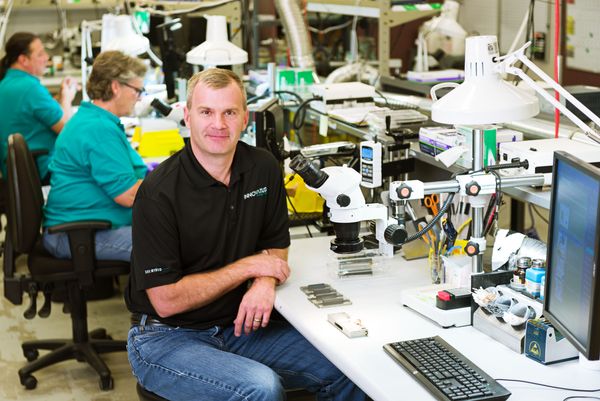 Mike LaBree is the Chief Technology Officer at Innovatus Imaging.
Mike can be reached here to address any additional questions or comments.