Mindray Introduces 2-in-1 Han...
News
Mindray Introduces 2-in-1 Handheld Ultrasound Device with Multi-device Connectivity
Mindray has announced the launch of its TE Air Wireless Handheld Ultrasound, a new imaging solution that improves ultrasound accessibility.
Tue Sep 12 2023By KennedyKrieg
Mindray has announced the launch of its TE Air Wireless Handheld Ultrasound, a new imaging solution that improves ultrasound accessibility. This compact, wireless technology enables health care professionals to carry comprehensive scanning capabilities in their pockets, adapting to a wide array of clinical scenarios.
The TE Air is the industry's first handheld ultrasound device that can connect to either a mobile device or the touch-based TE X Ultrasound System, expanding its utility and accessibility, according to a press release.
"The launch of TE Air builds on Mindray's dedication to the point of care ultrasound (POCUS) industry and its continued efforts to diversify and introduce revolutionary products to the emergency medicine and critical care markets. With its compact, wireless design, the TE Air slips conveniently into a pocket, so it's always with you and ready for use. Its versatility, coupled with flexible charging options, ensures it's not just mobile but reliably accessible, empowering users to navigate even the most unexpected clinical scenarios with confidence," the release states.
"The TE Air is a leap forward in ultrasound technology, offering comprehensive functionality inside or outside the hospital environment," said Wayne Quinn, President of Mindray North America. "The new 2-in-1 innovative solution empowers clinicians to overcome the traditional constraints of cords and confined spaces giving them access to premium scanning capability when and where they need it."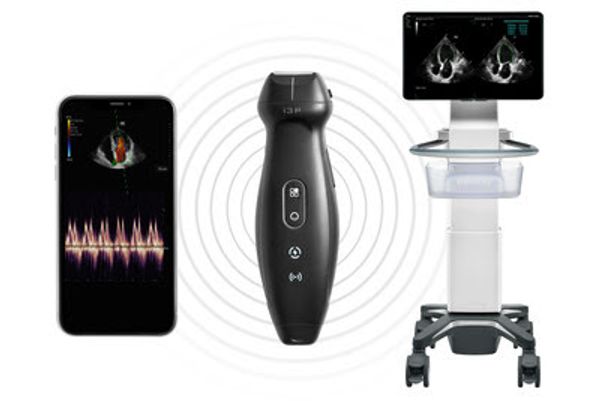 The TE Air App, available on iOS, perfectly balances simplicity and efficiency by allowing one-handed operation in any location. It can also seamlessly integrate with hospital information systems to help improve workflow. Furthermore, the app works to onboard patient data management solutions to provide connected patient care.
TE Air Features:
Powered by Mindray's eWave platform and single crystal technology, the TE Air delivers high-quality images with excellent resolution, enabling clinicians to make confident decisions at the bedside
A phased array with dedicated exam presets for Cardiac, Abdomen, Lung, Transcranial Imaging (TCI), Emergency Medicine (EM), Trauma (FAST), EM Abdominal Aortic Aneurysm (AAA), Bladder, OB/GYN, and Vascular allow clinicians to conduct ultrasound examinations more efficiently and offer more accurate decision-making assistance at the point of care
The innovative Air Capsule doubles as a protective case and a portable charger to ensure the device is ready when you are
The IP68 waterproof and dustproof design enables complete immersion with compatible disinfectants for easy disinfection
For more information, visit https://www.mindray.com.