Circulatory Assist Unit
Add Circulatory Assist Unit to My Bench
4 Results
Expanding endovascular interventions
The Diamondback Orbital Atherectomy System is designed to contact 360 degrees of the vessel wall and differentially treat hard plaque while minimizing damage to the media, unlike a directional device. Diamondback 360 low profile orbital technology...
Circulatory Assist Unit
---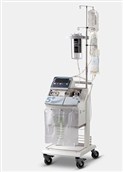 Autologous Blood Recovery System
The Cell Saver 5+ autologous blood recovery system is designed for use in procedures where medium- to high-volume blood loss occurs, such as trauma cases. With the ability to deliver moderate hematocrit and to help remove traces of undesirable compon...
Circulatory Assist Unit
|
Autotransfusion Unit
---
The AB5000 Console is a software driven system that can operate one or two disposable blood pumps.
The ABIOMED AB5000 Circulatory Support System is a short-term mechanical system that can provide left, right, or biventricular support for patients whose hearts have failed but have the potential for recovery. The AB5000 can be used to support the he...
Circulatory Assist Unit
---
The BVS 5000 is the most widely used mechanical cardiac assist device for patients with a potentially recoverable heart.
The ABIOMED BVS 5000™ is used worldwide for temporary left, right, or biventricular (both ventricles) support in patients with potentially reversible heart failure. The BVS 5000 underwent preclinical studies at the Texas Heart Institute (THI) f...
Circulatory Assist Unit
---