Ultrasound
Add Ultrasound to My Bench
1324 Results
Pushes the boundaries of ultrasound with a powerful performance.
Equipped with patented, software based ZONE Sonography® Technology (ZST), the Z.One PRO provides optimally detailed B-mode and Doppler imaging for patients, regardless of body habitus, helping assure a reliable diagnosis.      Throughout a wide ran...
Ultrasound Systems
---
---
---
Diagnosis with details.
Full digital multi-purpose ultrasound system with a mobile-enabled mode, pulse-wave Doppler PW....
Ultrasound Systems
---
Portable ultrasound system.
The Butterfly iQ system consists of a portable transducer that connect directly to an iPone, and an iOS app to display the images and to control settings.      The device actually works as three different transducers thanks to an ultra wide band ma...
Ultrasound Systems
---
Affordable excellence
The EnVisor Ultrasound System offers many time-saving features designed to optimize workflow while its ease-of-use helps assure imaging consistency across all care-givers and patient types.                        With its state-of-the-art ergonomic...
Ultrasound Systems
---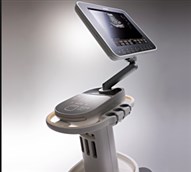 Philips Sparq critical care ultrasound system
Sparq is a revolutionary ultrasound system designed to provide outstanding image quality. It is equipped with innovative features that increase your confidence when performing ultrasound exams and ultrasound-guided procedures.               Sparq's ...
Ultrasound Systems
---
Introducing a new era in premium ultrasound
EPIQ 5 features our most powerful architecture ever applied to ultrasound imaging – touching all aspects of acoustic acquisition and processing, allowing you to truly experience ultrasound's evolution to a more definitive modality. EPIQ 5 is supporte...
Ultrasound Systems
---
Affiniti 70 Ultrasound System
The Affiniti 70 ultrasound system delivers innovation that responds to the needs of a busy ultrasound department and gives you the confident results you need, in the time you have, every day. Engineered for efficiency and reliability and powered by P...
Ultrasound Systems
---
Entry-level color and grayscale mobile ultrasound scanner.
High definition performance in a system sized to fit your needs>      Improve your diagnostic confidence with a broadband digital beamformer that captures and preserves more tissue information than conventional narrow-band systems. Its wide dynamic ...
Ultrasound Systems
---