DESCRIPTION
With the ARTISTE Solution, Siemens brings users a new world of treatment delivery by providing them with the technological flexibility they need for today and tomorrow.
ARTISTE offers an impressive array of new, trendsetting technologies that enable small and large clinical teams throughout the world to easily attain the necessary information to manage complex radiation therapy protocols – all without compromising users' patient's time, safety, or comfort. Offering a full complement of sophisticated imaging tools, such as In-Line kView Imaging* (the latest solution in MV Cone Beam Imaging), kVision Kilovoltage Cone Beam, or CTVision Solution, ARTISTE Solution presents users with a single integrated solution that provides their clinic with optimized workflow. The accuracy and efficiency minimizes dose to healthy tissue while maximizing dose to the target area. The treatment provides the highest level of precision for the patient and the greatest level of confidence for users.
Ask a New Question

1

Reply-alizadehriabi
8 years ago
mlc error


Hi all,

We have started working with 2 Siemens Artiste machines since last year. recently We are seeing "mlc error" and "mlc HW failure" too frequently on one of the machines which has been performing more than the other one.

It was suggested to have the room colder but it seems that it was not so effective. A mlc recalibration was also not beneficiary. Could it be as a result of a raiation-sensitive board in the system which should be changed periodically?

a quick response will be highly appreciated

Reply

2

Replies-Chibani
9 years ago
modulator


How can I get ride of "modulator incomplete"

Reply

3

Replies-Mahbod
9 years ago
modulator incomplete error


We have just installed a Siemens Artiste in our department. The error "Modulator Incomplete" is frequently occurring during the day. Its occurrence is random and does not have a trend. It can occur any time during warm up, exposure or waiting periods between two exposures. We were told that the error might be related to the oil pump and it will wane by time. Could it be true that this error occurs because the linac is new and it will become less frequent with time? Any suggestions?

 

Reply
FEATURES
In-Line kView Imaging* – one beam, one source, one detector, for kV-like cone beam image quality
kVisio– delivers excellent 3D soft-tissue contrast from a treatment environment that is quiet, spacious, and unobstructed, using a dedicated kilovoltage imaging chain
CTVision System in-room CT allows direct comparison of daily patient anatomy to original planning data – compare CT with CT
IM-RealART Solution – replan on the spot – using CTVision System provides the CT data-of-the-day for replanning on actual patient anatomy.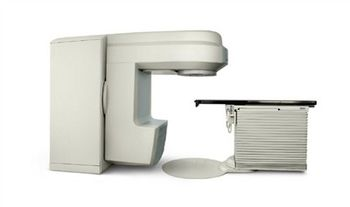 Siemens Healthcare returns to the Annual Meeting of the American Society for Radiation Oncology (ASTRO), October 2-6 in Miami, with a broad range of solutions that multiply chances – for life.