DESCRIPTION
Offering the ultimate in work and space-saving design, Aplio XG is the next generation in a premium cardiology system developed specifically for demanding ultrasound environments.
Ask a New Question

1

Reply-GTs
3 days ago
The touchscreen looses its calibration
The touchscreen panel of my Aplio xg looses its calibration. Then i have to press higher or lower and i cannot work this way. I have to reprogram the touchscreen panel calibration but the same happens one day or two later. I tried to clean the panel, even the invisible parts with a thin plastic card but with no result. Could you please help me with this? Reply

2

Replies-Husen
4 months ago
toshiba istyle ultrasound
toshiba istyle ultrasound machine error 04Reply

1

Reply-Cisse
5 months ago
Imaging application startup problem
I have a Toshiba aplio XG running on Windows server 2000, my problem is that I can't start on the imaging application, once the machine is on I just have access to the windows systemReply
FEATURES
Exceptional performance, simply superb image quality
Aplio XG provides outstanding clinical performance backed by a comprehensive array of unique, clinically validated technologies. Its full range of high-performance imaging functions lets users visualize minute tissue details and vascular structures with precision for a faster, more accurate diagnosis.
Precision Imaging
Aplio XG's Precision Imaging technology enables users to acquire ultrasonic images of unprecedented clarity and resolution and thus lets users see more detail than with any other system.
Innovations for life
Aplio XG's extensive breast package provides you with a full spectrum of clinical tools from the most superb image quality, high-resolution 4D and MicroFlow contrast imaging up to unique new technologies. MicroPure is an innovative clinical tool that can help users identify microcalcifications, a potential marker for malignancy in breast tumors. Toshiba's new ElastoQ quantitative relaxation elastography assists in quantifying palpation of breast masses by providing a robust numerical indicator for malignancy.
Built more intelligently to make user's work easier
Featuring Toshiba's unique and innovative iStyle package, Aplio XG is designed to support in carrying out examinations more efficiently and with an ergonomically correct, neutral posture. From the highly movable panel to the premium quality 19'' LCD screen with articulating arm and convenient handle, every aspect of Aplio XG is designed to adjust to clinical needs and personal preferences.
Productivity unlimited
From imaging to quantification, from reporting to archiving, Toshiba provides a full spectrum solution that helps users manage routine and advanced clinical studies more efficiently.
| | |
| --- | --- |
| Cart Based | 1 |
| Clinical Applications | Cardiology |
| Color-flow Mapping | 1 |
| Doppler Modes | 3-D, Color, Continuous wave (CW), Pulsed wave (PW), Tissue Doppler |
| Height | 22.8 in |
| Image Display | 19 in Color Flat Panel |
| Imaging Capabilities | 2D/3D |
| Length | 56.2 in |
| Weight | 408 lbs |
| Width | 44.6 in |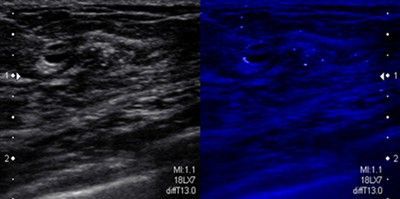 Study Shows MicroPure Image Processing Technique Identifies More Breast Microcalcifications Than Gray Scale Ultrasound Imaging
CHICAGO, Dec. 1, 2010 – Many healthcare providers use ultrasound as a first-line diagnostic tool in detecting and monitoring women's health conditions. To help meet the needs of healthcare providers administering women's imaging, Toshiba has introduced a women's imaging configuration for the AplioTM XG at this year's Radiological Society of North A...