DESCRIPTION
Infusion Pump
Syringe infusion pumps deliver small doses of medication from a variety of syringe sizes in acute care settings. The Medfusion® 3500 syringe pump is designed to enhance safety while maintaining simplicity to deliver individualized care to patients of all ages. For more than 15 years the Medfusion® syringe pump platform has been recognized for its accurate medication delivery in critical care and the operating room. The Medfusion 3500 Syringe Pump is an ambulatory syringe pump that runs on either AC current or on rechargeable internal batteries.
Ask a New Question

7

Replies-James1784
3 months ago
Super Cap Post
Can anybody help me how to replace the super capacitor on a Medfusion 3500 properly. I have blown out one mainboard already. It seems there is a proper way to do it. Is it like replacing a backup battery? must leave the unit on somehow? Or use jumpers to feed 5volts while removing Capacitor? Need Helpful advice please.Reply

2

Replies-Admin2022
4 months ago
Adding profiles to unit
Medfusion 3500, I only have the NICU profiles and would like to add other profiles. How do you add them to the unit? Please help!Reply

1

Reply-ereynolds
6 months ago
Syringe near empty
Hi, Getting a 'Syringe Near Empty' alarm when syringe is no where near empty. Does anyone have any ideas on what could be causing this? Thanks in advance!Reply
FEATURES
The Medfusion® 3500 auto-default feature promotes your facility's policies and procedures for medication administration and safety.
From the moment the pump is powered on, the pump defaults to use the established drug protocols set by your hospital's pharmacists, so that nursing staff are able to quickly start an infusion with the safety of drug libraries supporting them.
Hard and soft limits set by your Pharmacist, for each drug and profile, protect against medication errors regardless of your patient's size or where in the hospital they are receiving care.
FlowSentry™ monitor provides unmatched pressure sensing technology for earlier clinical intervention.
Automatically detects various syringe types and sizes, from 1mL to 60mL. A compatible syringe list can be updated to current syringe models from major manufacturers.
Ergonomic, easy-to-use, horizontal design helps protect the entire syringe barrel and allows single-handed loading of the syringe.
The large screen, features high visibility TALL man lettering that displays the full drug name to differentiate look-alike, sound-alike drug names and concentrations.
| | |
| --- | --- |
| Flow Accuracy | 2 % |
| Infusion Pump Type | Ambulatory |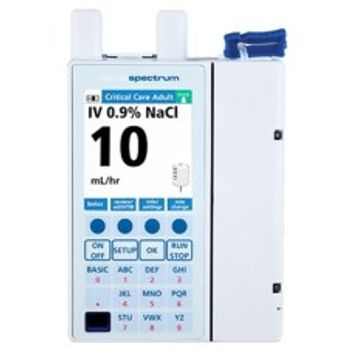 Infusion pumps are invasive pieces of medical equipment that work to save lives through preventing dehydration, and also aid in the continual release of medication.
Smiths Medical announced that it is voluntarily initiating a global recall of Medfusion® Syringe Infusion Pumps, Models 3010a and 3500, manufactured from August 2008 to June 10, 2009.