DESCRIPTION
Increase your OR performance with the flexibility of the 5085 SRT.
The 5085 SRT is a crossover table that slides, rotates and transports patients throughout the perioperative area and is the only surgical table cleared by the FDA for patient transport, according to the company. A drive wheel allows one caregiver to safely transport a patient from pre-op to OR to post-op without red-zone gurneys or trolleys. In pivot mode, the drive wheel locks and rotates 360 degrees, without support posts or weight calculations. An intuitive hand control with an LCD window telegraphs table-positioning data and allows one-touch patient posturing. The four-section tabletop articulates to a variety of patient postures. The 5085 table can be upgraded to the SRT at any time by adding the drive wheel and head section. Both tables are configured to enable ACT (Advanced Control Technology) software and are compatible with previously purchased STERIS accessories.
Ask a New Question

0

Replies-hospi-medics corp
7 years ago
is working good?
is the table working good?what accessories it comes with?Reply

2

Replies-TRH
7 years ago
Dragging Brakes


I have a Steris 5085 SRT OR table that two of the four brake feet  will not fully raise and drag making the table hard to move.  Does anybody know how to fix this problem?

Reply

3

Replies-FrancisVP
8 years ago
Error 24


Hello,

I have an error 24 on my 5085 table. The manual says to replace the power supply but can we just change the thermal sensor and where is it located ?

 

Thank you !

Reply
VIDEOS
STERIS 5085 SRT Surgical Table
FEATURES
The intuitive hand control has pre-programmed positions for rotation and beach chair for easy set up
The hand control's LCD window telegraphs table positioning data to caregivers, even in a darkened room.
Contours to virtually all patient postures with a four-section tabletop
Provides unrestricted perineal access with removable leg section
Enhances lateral procedures with a powered, radiolucent kidney elevator
Accommodates virtually all patients with generous height and weight ranges
Provides outstanding access for C-arm, permitting clear high-quality images crucial to MIS, cardiothoracic, orthopedic and neurosurgical procedures
Compensates for uneven OR floors with unique self-leveling floor locks
Prevents sectional and table base collisions with the Auto Limit Sensor™
Compatible with a wide array of previously purchased accessories
| | |
| --- | --- |
| Height | 22.8 in to 42.5 |
| Length | 83 in |
| Weight | 850 lbs |
| Tredelenburg | 30 degrees |
| Lateral Tilt | 20 degrees |
| Patient Weight Capacity | 1200 lbs patient support, including raise/lower (centered on the column) |
| Width | 20 in |
Additional Specifications
Table Slide Range 9" (227 mm) to head, 9" to foot  
Table Rotation 360°  
Head Section +90° to -90° (10° increments)  
Back Section +80° to -40°  
Leg Section 0° to -105°  
Flex/Reflex 140° / 100°  
Manual Override Yes  
Perneal Cut-out Yes  
Kidney Elevator 4" (110 mm) powered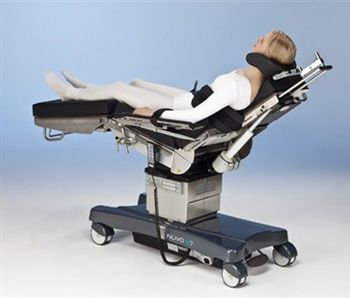 This month, OR Today explores current trends in operating tables.
This month, Medical Dealer explores the latest trends in operating tables and lighting systems.