DESCRIPTION
Hand-held Electrical Safety Analyser
The Rigel 62353 is the latest hand-held safety analyser from Rigel Medical, able to test to the new standard for in-service and after repair testing of medical electronic devices, the IEC 62353 (2007).  
  
This cost effective safety analyser meets all the IEC 62353 requirements and beyond. From record keeping to comparison of data when used in combination with Med-eBase, the Rigel 62353 is a truly versatile instrument for every service engineer demanding portable test equipment.  
  
Its large internal memory and connectivity to Med-eBase, comprehensive database software, ensures fast and easy download of test results, managing your asset database, creation of test sequences and producing test certificates.
Ask a New Question

1

Reply-tau tsepetsi
11 years ago
AP measurements


Hi

I can't seem to get any reading when i do applied parts. namely the insulation resistance and direct leakage current for AP.

I have connected my system as per guide but i get reading as I would when nothing is connected. i have used different probes and still i get this. any tips for things I can look for.

Thanks

 

Reply
FEATURES
IEC / EN 62353
On-board memory and keyboard
Automatic and manual test sequences
| | |
| --- | --- |
| Height | 75 mm |
| Length | 270 mm |
| Power Requirements | 230 VAC |
| Weight | 1.6 kg |
| Analyzer/Simulator Type | Electrical Safety |
| Width | 110 mm |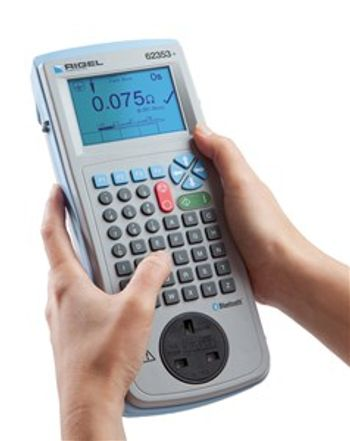 Rigel Medical has introduced an upgraded version of its dedicated tester for the in-service and post-repair safety testing of medical electronic devices in line with the standards required by IEC 62353.