DESCRIPTION
Mobile C-Arm
GE Healthcare's OEC C-arm has the power, usability and I.Q. to meet the most demanding surgical imaging situations.
FEATURES
55 degree C-arm over-scan with Super C 15kW and rotating anode X-ray tube for penetration
Motorized C movements and remote user interface MTS for motion subtraction
Imaging LCD flat panel monitors with articulating arm for ergonomics
1k2 high resolution imaging technology on a mobile system.
Featuring precision imaging Dynamic Range Management (DRM) for uncompromised image quality.
Flat panel monitors on an articulating arm allow viewing of images from anywhere in the room
Simple user interface reduces procedure time to improve efficiency.
Preset imaging profiles optimize I.Q. by enhancing features of interest.
Remote service connectivity.
| | |
| --- | --- |
| Maximum Focal Spot | 0.6 mm Dual focal spots, 0,3mm/0.6mm |
| X-ray Generator Power Rating | 15 Kw |
| Image Display | 18 in Dual Monitor |
Additional Specifications
Image intensifier sizes
X-ray tube heat capacity
1.6 MHU
Pulsed fluoroscopy
15 pps, 30 pps
Spatial resolution -- fluoro 1,000 x 1,000 16bit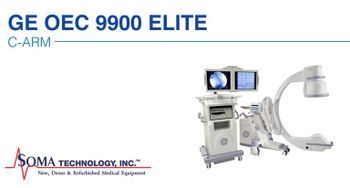 GE is a trusted brand that has saturated the medical equipment market. They produce intuitive, well-working medical equipment. C-arms are large pieces of imaging equipment that take captures of inside the body.