Forums
0 Replies
A Webeco A 60 sterilizer machine was donated to our hospital but unfortunately cannot be used because, according to the clinical engineer, requires some codes to set it up. Can anyone with an idea of this machine help me with how to set it up or at best get me in touch with the manufacturer to help us sort this out? It's been idle for long. Thanks
RE: Sterilizers/Autoclaves
5 Replies
I need some advice on the error 7.3, DI cooling system. The laser is not warming up after a move.
1 Reply
Please can anyone guide me how to reset the vent of Puritan Bennett Achieva PSO2?
0 Replies
Anyone have any history with this? I'm thinking the control box. But not confident enough to pull the trigger for the price.
6 Replies
Having an issue here where when SP02 is selected with our telemetry devices and an alarm triggers, when canceling the alarm, it also shuts off SP02 monitoring. This happens with all piics (4) and with all wireless devices (M4841A, and MX40). Any help is greatly appreciated. Thank you.
4 Replies
dear Sir on the display from the Scopomat 76 i can see the error code "Fehlfunktion Blenden" have you an idea what can i do?
4 Replies
Sakura Tissue Tek VIP 6 - ultrasound level sensor fail (EC 322 & 922). I've got a machine with an intermittently failing lower level sensor. I removed the sensor to clean it more thoroughly - it looks like bright clean stainless steel. The recommendation on the Sakura PM checklist is to use acetic acid or Metaflux, but I didn't have either on hand. Sakura doesn't specify which Metaflux product, but I've never run into this issue before. Has anyone else had a level sensor issue which was corrected by intensive cleaning? Does anyone have a source for these level sensors, other than Sakura?
2 Replies
I am having an issue with the door solenoid burning out. I replaced one and it was good for a few months then burnt out. Replaced another and it burnt out in a week along with some switches. I replaced all the switches, main relay and electrical contractor along with another door solenoid and it burnt out again and the door open light was slightly on even when the unit was in power off mode (but would light with full intensity when power was applied which made me think leak somewhere). I replaced the wall thermostat on the suggestion of a fellow tech and that fixed the weak light on the open door but I don't want to burn up another solenoid. SO before I throw another solenoid in this beast does anyone know what the voltage SHOULD be on the #2 wire in the different positions? # 2 wire that connects to the door solenoid has a leg coming from the pressure interlock switch and the open door light. RPI told me that the solenoid shouldn't be under constant voltage but I have 120VAC coming from that #2 wire to the body of the unit but I don't know if that's an acceptable test point. I don't have any voltage going from where the #2 wire connects to the solenoid to the pressure interlock switch.
3 Replies
Does anyone have a service manual Stryker Berchtold Chromophare F 628 - LED Surgical Lights?
0 Replies
Hi, please I need know how I can Enable modify parameter, because this show error message: E2 PROM write error. Where can see if the write lock or not. Thanks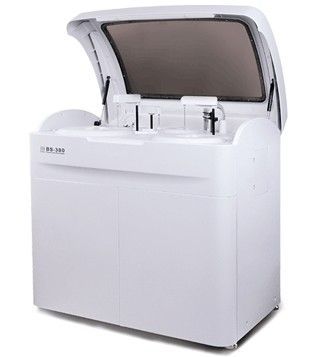 RE: Mindray - BS-380