Forums
1 Reply
There are two devices dräger evita 2 dura. One is not working, the second is working. On one, the flow sensor is not calibrated, writes: calibration filed - measurement inop. On another device, this flow sensor is calibrated OK. Something with the device. Help advice.
0 Replies
Where can I get a scanner trigger cable (Siemens) or specs for building one.
0 Replies
How can I get a quote for Philips intelligible backlight stripboard
1 Reply
Does anyone have a copy of the Smiths Medical Capnocheck 2 8400 Operating Manual?
0 Replies
I HAVE ERROR AT NIHON KOHDEN MEK6500K. AN ERROR IS ADD A DILUENT (A010 RBC) WHAT I CAN DO ? THANKS
0 Replies
What do these cables do and are they critical for powering up the unit?
0 Replies
Anyone who can help the meaning of the Err 205 of the unit Shimadzu Opescope? Thank you
2 Replies
I'm having problems with the temperature sensors, the black needle of the gauge hits hard the limit of the scale and stays there forever. The voltage divider of the galvanometer seems to be fine, all resistors are ok. I'm suspicious about the sensors. I can see that there are 2 of them. I have removed the lateral lid and am able to see clearly a K-type thermocouple wrapped inside a pipe and, strangly, its yellow connector is loose, it is not connected to anything. I don't see where it could be attached. As for the other sensor, it is the one inside the cylinder of the evaporator, it looks very strange to me, I cannot tell what kind of sensor it is, at first sight it resembles an optical fiber, it seems to have a core, but I'm expecting a thermistor or some kind of semiconductor like an LM35 or something like that. Coming out of the chamber there are two red wires connected to the sensor which outputs 2.7 V. So, my specific questions are: 1) Where should the thermocouple be connected?, 2) What kind of sensor is the one inside the chamber? 3) What should be the output of the sensor located inside the chamber? Thanks a lot, I would really appreciate your help.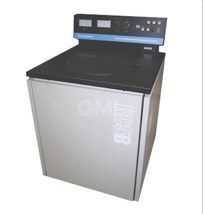 RE: Sorvall - RC-5B